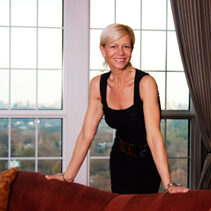 About Pearle Designs
Pearle Designs, Your Interior Dreams Designer, is committed to making your dreams a reality by providing extraordinary design services and expertise. Pearle Designs has been transforming and beautifying interiors since it was launched in 2008.
Meet Paige Earles (Pearle) Owner
Paige is a passionate and dynamic executive with a 25+ year record of success in the Interior Design, Staging and Real Estate industries. Paige is a Professionally Certified Mentor and an award-winning Designer. Her interior design transformations and her expertise have been featured in numerous media and print publications, including Fox 13 Evening News, Intown Magazine and Voyage Atlanta. Paige has been designing since 2008 and has successfully transformed hundreds of properties. In addition to being among the elite within the Staging and Design arenas, Paige has worked within the real estate industry since 1994. She is an accomplished Real Estate expert who was consistently awarded for her achievements. Paige consistently ranked in the Top 5 Nationally, earning her numerous awards, including two for achieving the #1 position Nationally.
Paige is unwavering in her commitment to providing exceptional interior design services while maintaining the highest standards of honesty, integrity and trust.
Paige's greatest achievement in life and what she is most proud of, is her son Eric. "I could not be more proud of the man he has become. He is simply amazing, and I'm simply the luckiest Mom on the face of the planet!"
Paige's charitable contributions and affiliations include K9 Air Rescue, The Make-A-Wish Foundation, Ronald McDonald House and Susan G Komen for the Cure. Paige walked 60 miles during the "Atlanta Breast Cancer 3-Day" and with the help of her 2 sisters, raised more than $16,000 for breast cancer research and finding a cure. She currently volunteers with AS Pet Rescue and the Atlanta Habitat for Humanity.